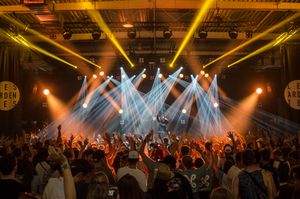 Another great Texas musician has arrived on the scene - and his name is Dan Crump. He's lighthearted, fun, emotional - all those good country things - writing songs that touch the heart, the mind, and the funnybone. He's modern, real country with a solid, powerful approach that everyone will find something to like about, from the traditionalists (who will approve of the amazing players backing Dan) to the modern country fans. Just give him a listen and I promise you'll like him, too.
   Dan Crump is a guy who's been around the block. He's been a DJ, a truck driver, a vacuum- cleaner salesman, and he's worked in a guitar shop. Of course, there was a lot of involvement in some area of the music business there - but somewhere in that blue-collar renaissance guy was a hell of a good songwriter. Finally he's let him out, and proved his worth with this pretty awesome debut disc, which not only includes eleven solid self-penned songs as well as a few excellent renditions of songs from other writers (Ernie Wells and James Garcia), and more, some of the best musicians Texas has to offer, including names like steel guitarist extraordinaire Lloyd Maines, Grammy-award winner multi-talented musician Ernie Wells (who also produced), fiddle player Gene Elders, and the legendary Floyd Domino on piano. Hard to go wrong with a lineup like that, and believe me, Dan Crump does not disappoint.
   He starts out with a warm and delightful tribute to his parents, Forty Years, which celebrates their long marriage and was, indeed, written for their anniversary. It was also, according to Crump, the second song he ever wrote. I'm once again amazed by someone who suddenly takes up pen and becomes a songwriter - what's more, he sounds like he's been writing forever. But for this Desert Storm veteran, apparently, songwriting seems to have come easy. For music fans, that's a great thing.
  Of course, he didn't jump right into recording, once he started writing. He got himself involved in the music "biz," learning from friends like Jack Saunders, Walt Wilkins, Gordy Quist, and other talented fellows from the Texas music front, in live performances or just writing with them. He's in pretty good company. Those Texas music halls spawn some amazing talent; Crump is no exception. From the tender opening to sharp, knowing tunes like the bold title cut, "Truth Is" to swingy dance tunes "Met An Old Friend" and "London's Calling Home" and back to the humorous single (and video) "She Likes Shoes," Crump has it all under control. It's tight, comfortable, modern country music, competently sung in Crump's pleasant, quirky tenor, swinging with good cheer. Truth Is, Dan Crump is off to a running great start as a brand new Americana artist. He approaches songs with the skill and ease of someone who has been performing all his life, obvious delight with what he's doing in his voice in the cheery songs, true emotional depth in the serious ones. He cares about his music, his songs, and it shows. With some fine Americana, good solid country music, Dan Crump may prove to be one of the best.
-  Kathy Coleman